New Criminal Copyright Troll Destination360 Attempts Blackmail
You've heard of Righthaven? After personally making sure that they were sued and prosecuted, it seems that someone else is playing a game. Unfortunately for them, they tried to blackmail me, and when I refused to pay their "fees" they started to slander me. They probably should have run a simple google.
Now there is another company doing this: In the first time in 20 years of publishing, this guy has to be one of the worst scumbags ever. Despite hundreds of pages on Google about him being nothing more than a copyright troll who seems to be registering images he doesn't even own.
Here's the problem: They don't actually own the images, but have been "registering" them illegally with the copyright office in bulk, claiming ownership.
This is a federal felony, and I think they know it. It's why they are not sending DCMA take down requests, as required by law to even sue. They themselves "admit" in message boards that the images are being distributed by other people but claim it's their ownership of the images, without any actual proof they took it.
Making this worse, they are using a fake IP phone number and fake address (post office box) in Nevada, hiding their true identity from the Police and FBI, who according to my source, have been trying to contact him for "years" about the fake legal letters that they have been sending. Unfortunately, no one actually picks up the phone or responds to letters– leading me to believe that this may an blackmail offshore operation to scam people.
BUSTED: Forbes Columnist Caught Illegally Selling Influencer Article
USAHerald has uncovered a scandal in which Forbes has been selling influencer articles, a practice that has widely been rumored to have been practiced, but now proven. Shipchain, an ICO cryptocurrency seller that is run by John Monarch, has been caught paying contributors on Forbes to publish articles promoting Shipchain without disclosing that the articles were paid for.
According to Shipchain's vendor Adam Torkildson, Shipchain paid $1000 to publish an now down article today on Forbes that hailed what a great company Shipchain is.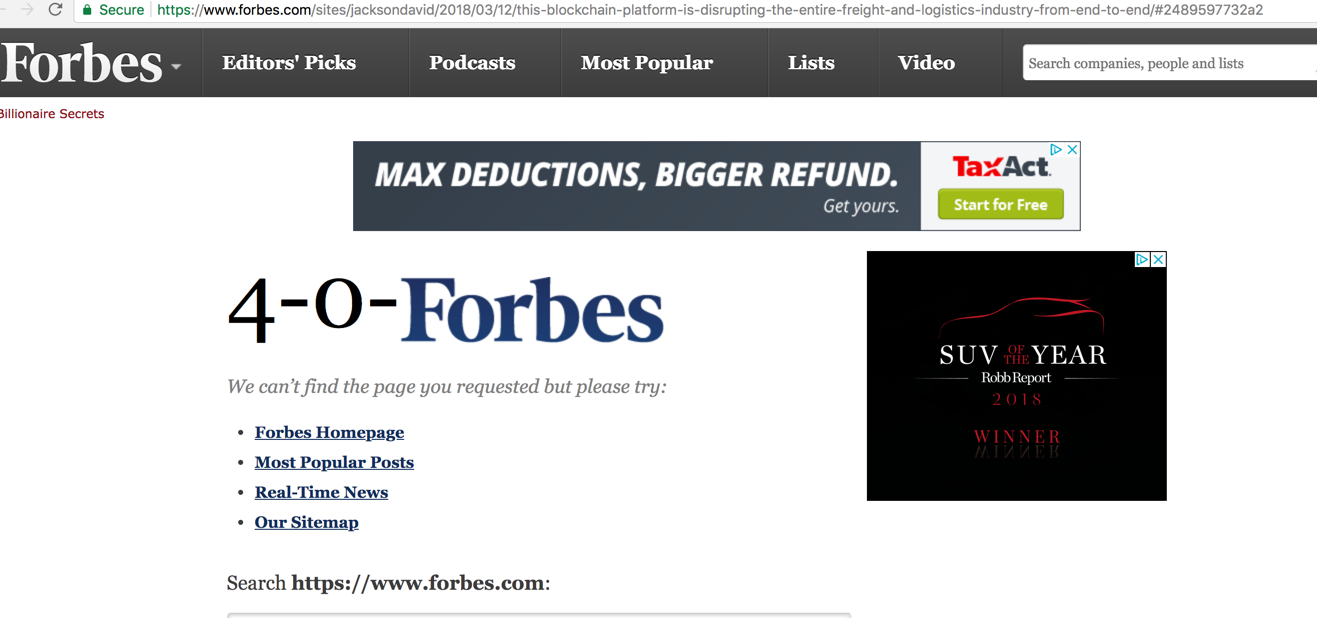 The article, which many readers would assume was an earned media story due to its lack of disclosures, praised Shipchain as one of a "handful of blockchain platforms poised to do things even the Internet couldn't accomplish."
One might think "Wow!   Shipchain is a truly revolutionary company, sounds like a great investment, especially since Forbes is printing it."  Afterall, Forbes is one of if not the most prestigious financial publisher in the world.
Here's an excerpt from the article:
"Today, you don't have to look very hard to find a blockchain project in the making—similar to how everyone in the 90s was working on the dot-com of this and the dot-com of that. But there are a handful of blockchain platforms poised to do things even the Internet couldn't accomplish.
One of them is ShipChain.
In ShipChain's case, this means tackling the freight and logistics industry's lack of transparency, middleman markup, fraud and lack of party responsibility, and visibility from end to end.
And with the team they have in place, they're poised for success.
"There's a real need for ShipChain in the freight and logistics industry. Over years of importing and selling billions of dollars worth of product, I've experienced this industry's frustrations firsthand. Old archaic systems, confusing mazes of paperwork (literally "paper" work, a lack of technology), layers of middlemen, and a very fragmented industry in its current state, ShipChain helps solve a lot of these problems," said Kevin Harrington, renowned entrepreneur, original shark on Shark Tank, and advisor on the ShipChain team.
Unlike most blockchain companies popping up these days, ShipChain recently closed a completely private funding round, raising $30 million to continue building their platform on the blockchain. The team in position is an impressive roster of blockchain experts, digital marketing gurus, and freight and logistics leaders who want to spearhead the disruption of the age-old industry. Advisors include Chris Perdue, of Perdue Farms, and Al Pettenato, the VP of XPO Logistics since 2012, among others. The company is helmed by John Monarch, a lifetime veteran of the freight and logistics industry.
In addition, ShipChain is a member of the EEA: The Enterprise Ethereum Alliance. The EEA connects Fortune 500 companies and industry leaders together, specifically for the collaboration of building upon the Ethereum blockchain. ShipChain is also a member of BiTA, a group of companies (including FedEx, IBM, UPS and ShipChain) leading the way in freight technology industries, specifically with a focus on blockchain technology.
As "the blockchain boom" continues, it will become clear which companies provide meaningful solutions through the use of the blockchain, and which are made from wishful thinking."
This tactic of pay-for-play without disclosure is an FTC violation.   More troublingly though is that Shipchain, whose raised over $30M from investors from its ICO offering, published an article on Forbes that unwary investors may believe is an accurate Forbes article depicting a great company that is taking over a billion dollar business, when in reality Shipchain paid $1000 for the story.
On a call with one of our investigative reporters, Shipchain's vendor, Adam Torkidson, described in details how the process of pay-for-play articles works with him:
"Everything I do operates exactly like a sponsored article where you get to write the content, decide the anchor text, decide whatever clients you want, but its not labeled as sponsored.   It's on a per article fee."
When we asked Adam if he could get us published on sites like MSNBC or Forbes, he was quick to offer an example of a recent client he published for:
"Literally the example I would have sent you right now is one about Shipchain, which is an ICO, and I charged that client $1000 for a featured story in Forbes.   You would normally get charged $3-5k for something like that."
Shortly thereafter Adam sent our team an email with the exact link he published on Forbes for Shipchain today: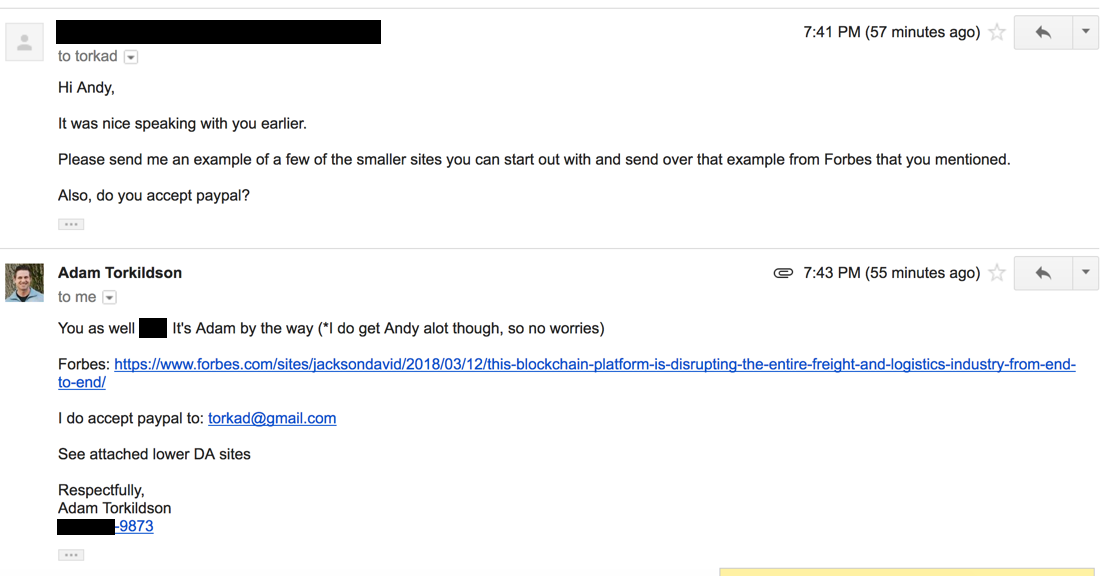 With Forbes ostensibly hailing what a "revolutionary" company Shipchain is, CEO John Monarch along with its CMO Brian Evans and others shared the Forbes article all over social media: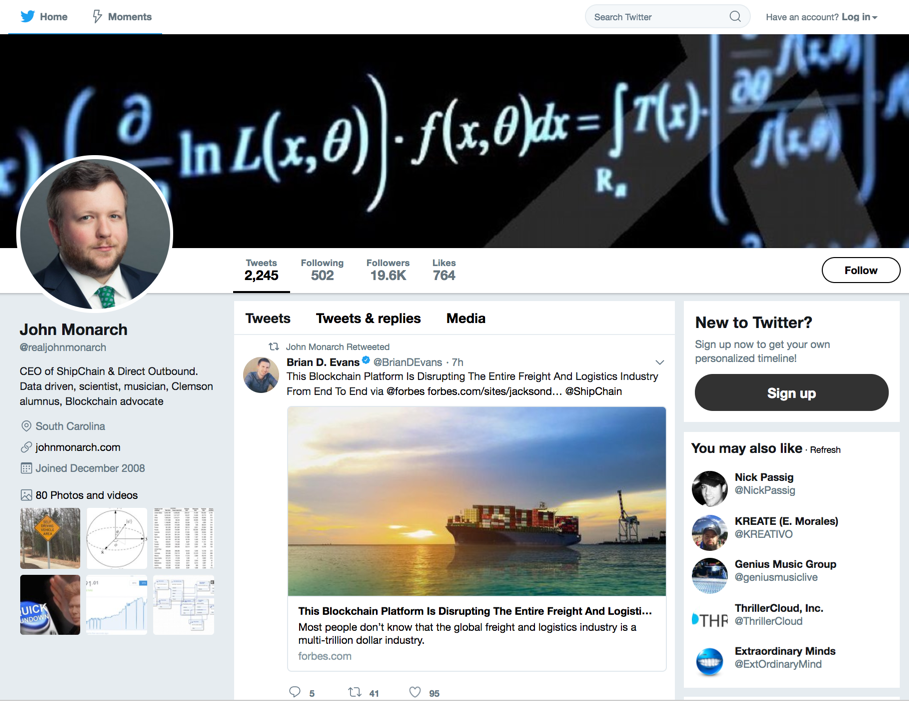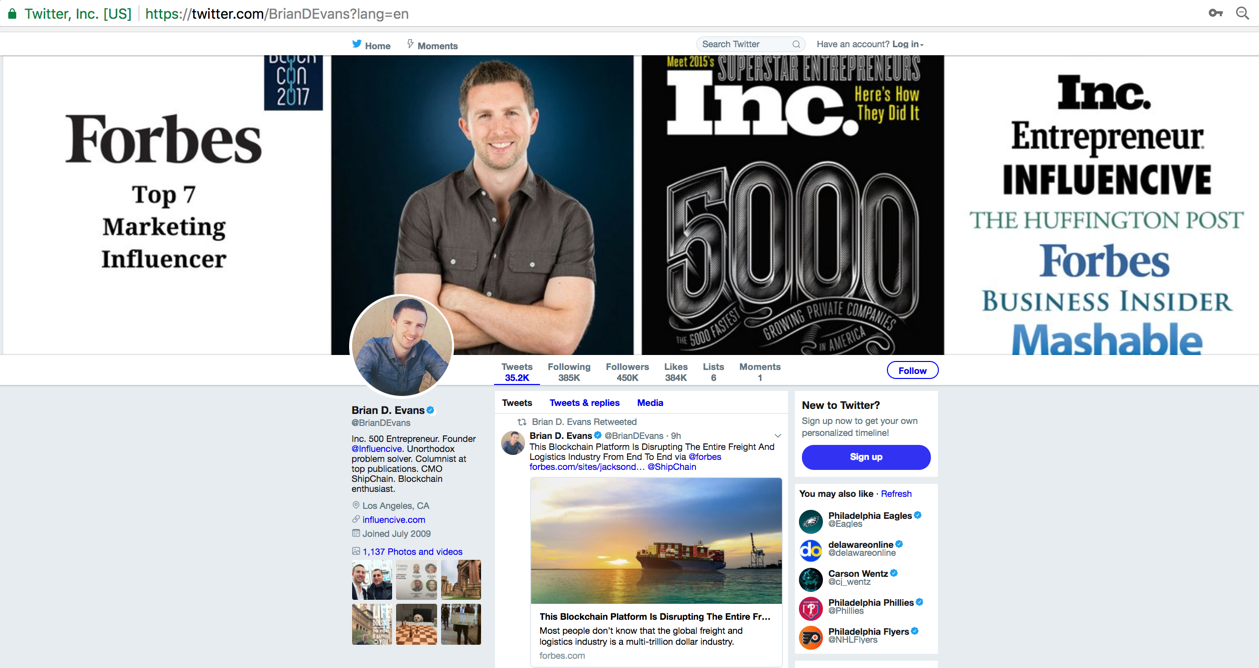 The FTC has clear disclosure guidelines for sponsored posts, requiring tags such as "sponsored" to clearly appear when money exchanges hands.   It appears that Shipchain has violated these guidelines.
The USA Herald is looking into other articles that Shipchain may have paid for in promoting its ICO offering and/or post ICO offering.
If you have a tip on Shipchain, please contact us here.
Postscript
Here's a copy of the Forbes article Shipchain paid $1000 to a contributor to write that was taken down by Forbes a short while ago.

After reading that article, we looked into the Forbes contributor "David Jackson" whom has since been banned by Forbes.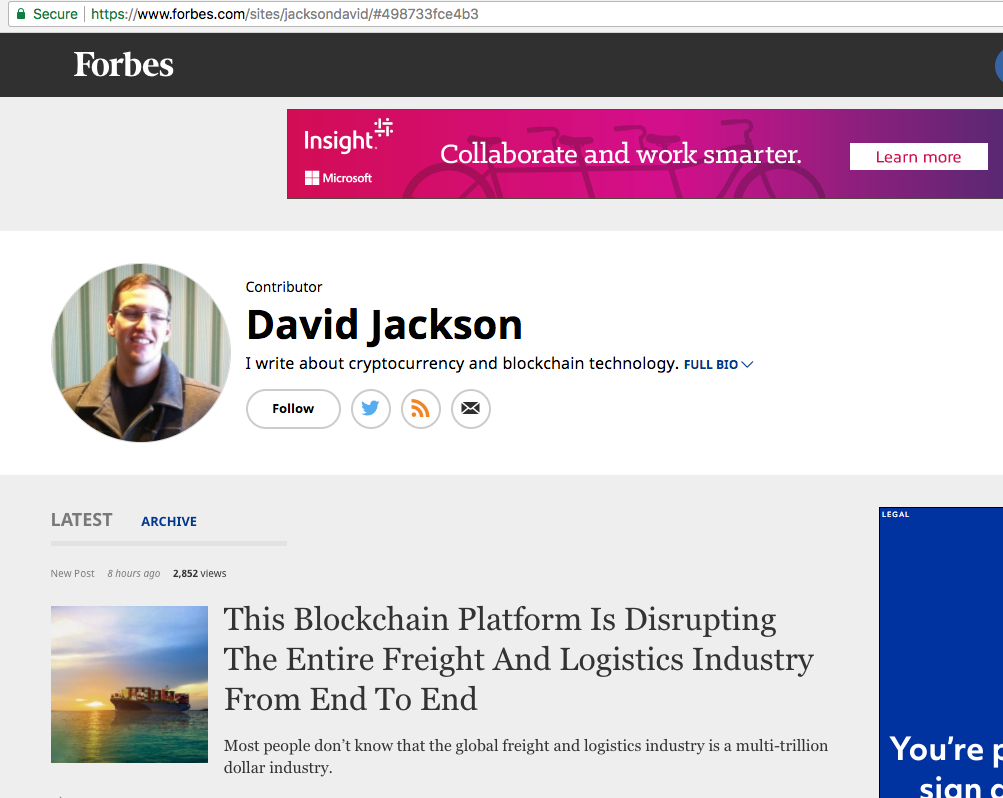 A little more research into David Jackson showed that he has a strong affinity for Adam Torkildson and is based out of Utah, just like Torkildson.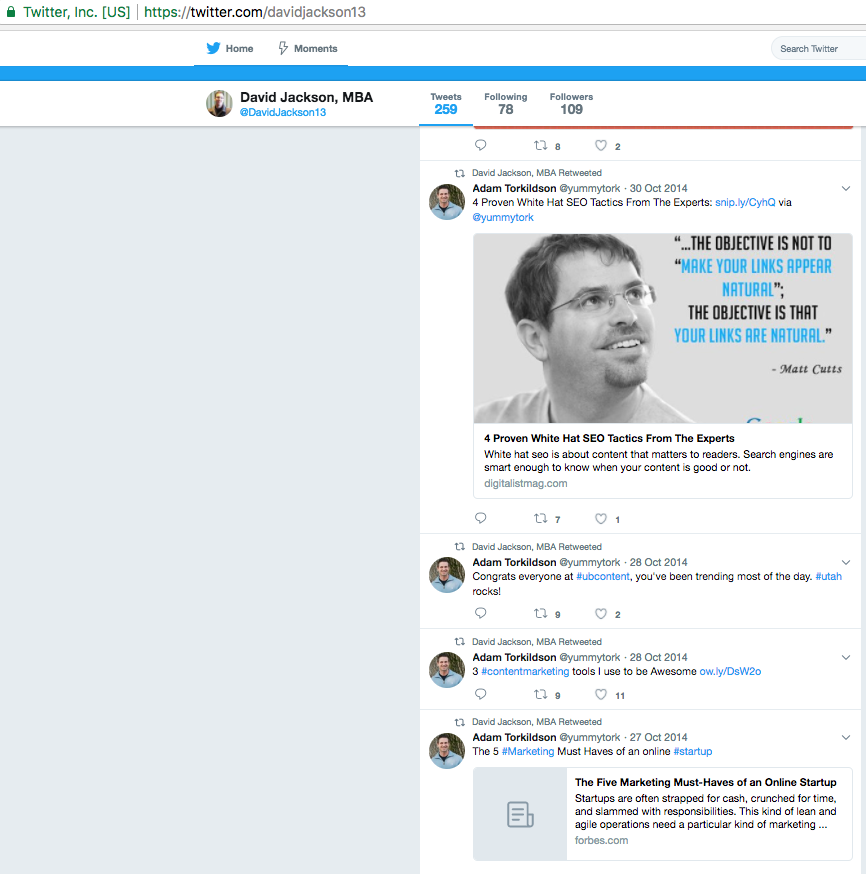 A little research on Adam Torkildson shows that he, for a living, publishes articles on the world's "greatest publications," indeed corroborating the details he provided us via email and over the phone.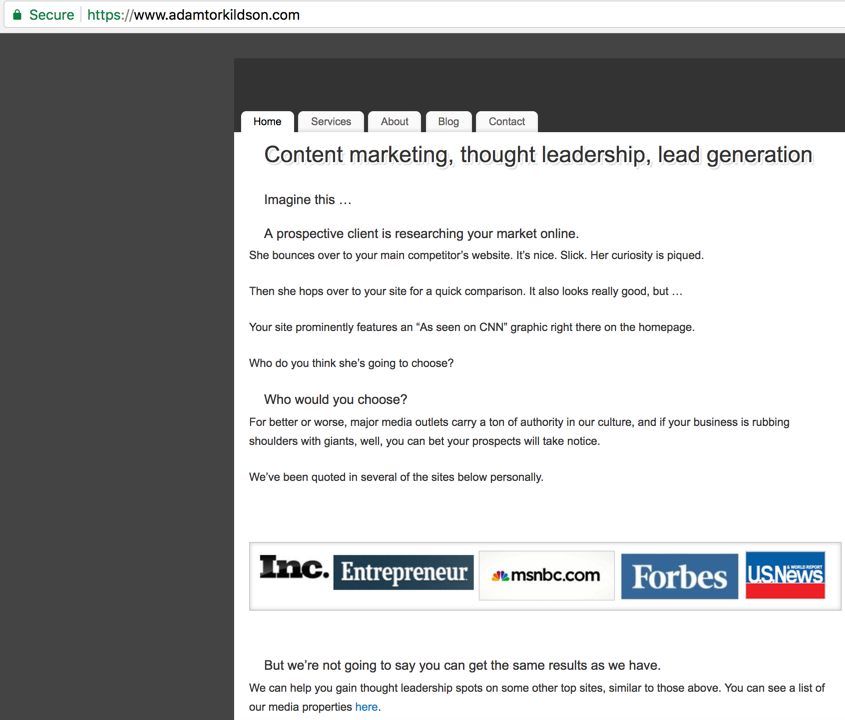 How many other articles were published on Forbes that were pay-to-play?   The very idea that money is exchanging hands for "earned media" articles on the world's greatest publishers throws into question their credibility and undermines the press in its entirety.
NYPD: "Harvey Weinstein Ready to be Arrested for Rape"
The New York Police Department is reportedly prepared to make an arrest on Harvey Weinstein for felony sexual assault, pending a decision from the Manhattan District Attorney.
On Tuesday, NYPD Chief of Detectives Robert Boyce told the press that the investigation into the sexual assault allegations against the disgraced Hollywood producer was going "very, very well." When pressed on what the next step would be for the department, Boyce directed further inquiries to Manhattan District Attorney Cyrus Vance.
Later that same day a police official with "direct knowledge of the case" told The Daily Beast that the department is "ready to go with an arrest" pending Vance's approval.
A woman by the name of Lucia Evans was the victim with the strongest case against Weinstein. Evans is one of many who came forward with her story, speaking to The New Yorker's Ronan Farrow one of the bombshell reports released last fall that led to Weinstein's downfall.
Evans was in college, pursuing a career in acting, when she met Weinstein. As is the case with many of his alleged victims, he offered her professional guidance, which turned out to be a false pretense for his sexual advances.
Armed Teacher in Georgia Arrested by Police After Taking Hostages
Police responding to reports of shots fired at a Georgia high school Wednesday afternoon confirmed a teacher had been taken into custody.
One student was injured after sustaining an ankle injury while running inside the school during the building evacuation, the Dalton Police Department tweeted. No faculty or staff were reported injured in the incident.
The Dalton Police Department earlier tweeted a person, believed to be a teacher, was barricaded inside a classroom with some students.
A police spokesperson told WRCB-TV the teacher had a gun but no other details were immediately available.
An employee of the school who asked to not be identified told the Times Free Press that shots were fired.
Dalton High School was placed on lockdown and police confirmed no children were in any danger. The school and the area surrounding it were evacuated.